Meet your Baylor Scott & White McLane Children's Medical Center's 2020 Children's Miracle Network Champion Mhyrun Hurst, Jr.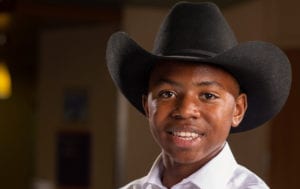 Every year, 170 local Children's Miracle Network Hospitals identify a Champion in each of their local communities to serve as the face for children treated at their local children's hospital. The Champions program honors remarkable children who have triumphed despite severe medical challenges. For their courage and perseverance, these children have been selected as ambassadors to raise awareness for the 17 million kids treated each year at Children's Miracle Network Hospitals. These ambassadors spend their year advocating for the charitable need of their local hospital.
This year we are proud to introduce our 2020 Children's Miracle Network Champion, Mhyrun Hurst, Jr.
In July of 2018, Mhyrun began experiencing numbness in his left extremities and slurring his speech. After explaining his symptoms during a routine physical the next month, Mhyrun was immediately referred to a neurologist at Baylor Scott & White McLane Children's.
Numerous tests revealed signs of two "mini-strokes" caused by blocked arteries. Mhyrun was diagnosed with Moyamoya disease, a rare condition in which the arteries supplying blood to the brain become narrow or blocked.
Coincidentally, Dr. Rabia Qaiser, a neurosurgeon specializing in Moyamoya, joined the McLane Children's staff just a few weeks prior to Mhyrun's diagnosis. She performed surgery to sew a scalp artery on to Mhyrun's brain to restore blood flow.
Moyamoya is a progressive disease, meaning that it will get worse over time and put Mhyrun at risk for more strokes and potentially permanent paralysis. A day after his surgery, Mhyrun suffered a stroke that caused the left side of his face to droop. Doctors believed the effects of the stroke could be reversed in three to six months, but Mhyrun's big smile was back to normal in just one week.
Mhyrun was able to be home in time for Christmas and has since been thriving. He has the heart of a soldier and continues to fight daily.
Mhyrun enjoys riding horses, playing basketball, and playing the drums.